The registration will open friday april 8th for the adgm members and the 15h for everyone
—————————————
L'Association Disc Golf de Montréal (ADGM) invites you to ADGM Open (9th edition) , also the second event of the Quebec Disc Golf Tour (QDGT) 2016.
When ? Saturday may 14th 2016;
Where? Parcours de l'île Charron (PIC) à Boucherville;
Max? 72 players (Reservation of your spot when we receive your payment);
6 divisions; (Open, Master, Avancé, Amateur, Femmes et Junior);
Format : 2 roundsof 18 holes in single;
** Again this year Duval Scion step up to sponsor the event and will give away 1 daredevil disc per player!
Schedule :
8:00 Registration
8:30 Begginners clinic
9:00 Player's meeting
9:30 1st round start
12:30 Lunch (food for sale on the spot)
13:30 2nd round start
16:30 Rings of fire and other games
17:00 Tournament results and prizes
More details :
Registration on paypal with the form that appears in the french page or you can pay your entre fee directly to a boad member of the ADGM (please specify the disc you want check the choice in the form);
The players list will be updated every 24hrs on the french side of the website;
The course will be similar to the past years but will include some little distinction (see map below);
PDGA rules and QDGT code of conduct are in force;
'Ace Pot' optionnal (2$extra to the entry fee);
Chimical toillets will be on site;
The lunch is not include;
**New this year: It will be possible to buy hot-dogs/hamburgers and other food on the site. If you don't want to eat what we sale, please bring a lunch because there is no place to eat near the course.
Refund policy:
You will be refund at 100% if you cancel before may 7th 2016. After that date no refund will be autorise to ensure a good gestion of the event.
If the event is full before the closing date of registration, the organiser will have to refuse registration the same day.
Good weather, bad weather we will be waiting for you!
Course Map: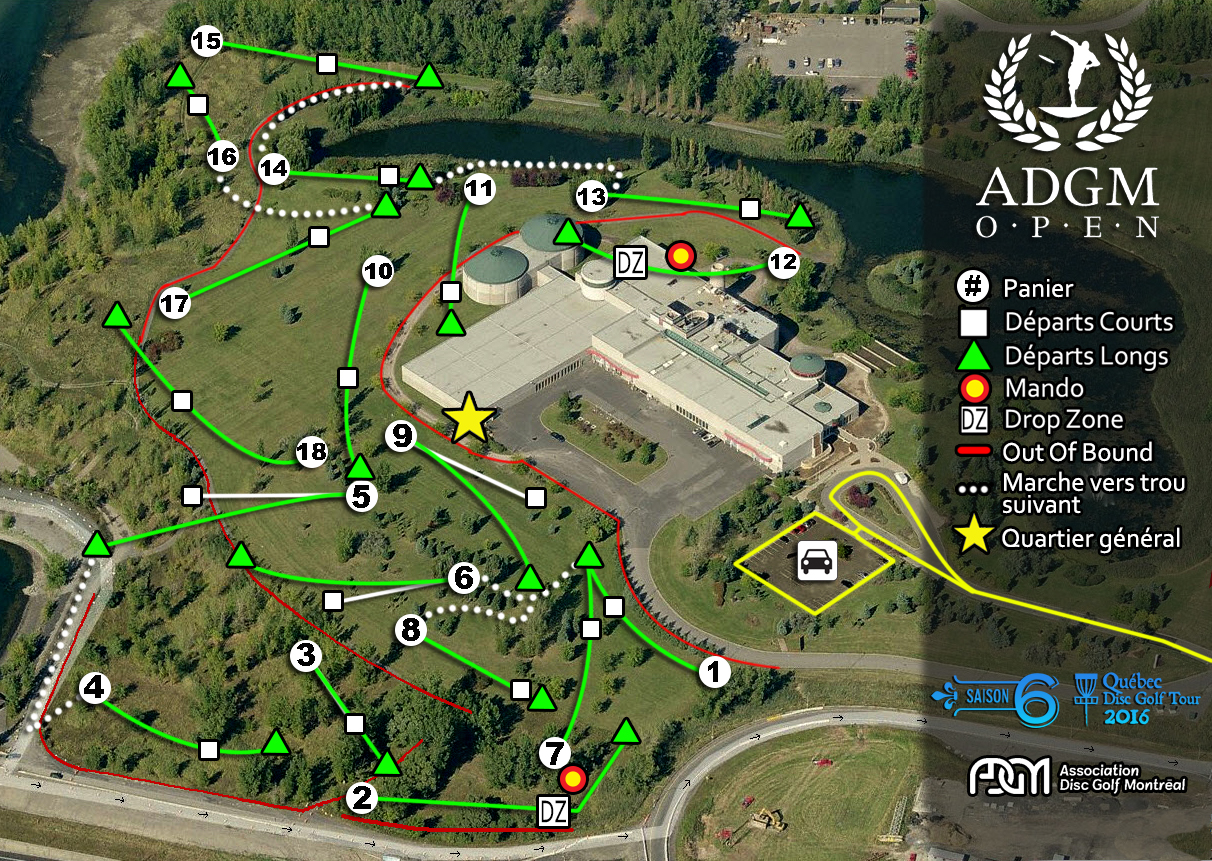 If you have any question please contact us at info@adgm.ca.
David Clavey,
Tournament Director